Anancy at Model City Library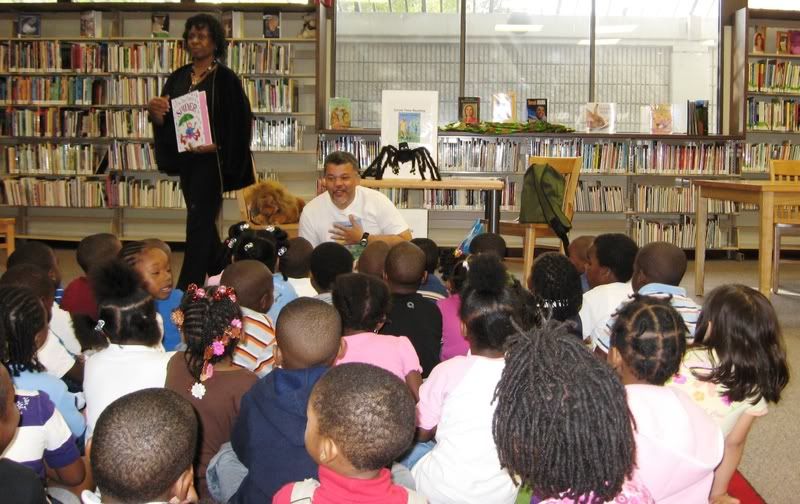 Who'd have thought that when I wrote
Grandpa
Sydney's
Anancy Stories
that I'd be
reading to approximately
fifty
or sixty
children
at the Model City Library? Yet
,
there I was at a kickoff event for
Black History Month
hosted by the

Miami Dade Public Library System

.


Now, I'm not even going to pretend that it was easy to keep their attention. Many of the children, I suspected, were not used to being read to, or maybe it was the subject matter--they'd never heard about Anancy. Which makes me think I need to get to work on that Anancy picture book that I've been thinking about.
Whatever the case, I had lots of fun and I think the children did too. I also hoped that the children learned something about themselves. You see, I wrote Grandpa Sydney's Anancy Stories because I worry about our children's self-esteem. I meet the broken ones every day.

When I wrote Grandpa Sydney's Anancy Stories, I hoped that the children would see a child who looks like them in the book. I wanted them to see an author who looks like them on the cover of the book. I wanted children to see that books were not distant things locked away in libraries or expensive bookstores where strange people drink mocha lattes or order a grande cup of just nonfat milk foam and eat it with a spoon.
I also hoped that they would identify with the main character and, like Jimmy, use their intelligence, and not their fists, to solve problems.For it's no use lecturing to them about the heroes of my imagination (Bob Marley, Derek Walcott, Kamau Brathwaite, Dennis Scott, and Tony McNeill ) when they get to college. By that time it may be too late. By that time we may have already lost too many"immature warriors."

I want these children to imagine possibilities that I have not dreamed about.
***
Related Posts:
Anancy
***
For more photos of the event, please follow this link: Anancy @ Model City Library

Technorati Tags: Anancy books Anansi Books Anansi Stories Brother Anancy Stories Anansi Tales Anancy Stories Anansi the Spider Anansi Trickster Tales Myth Anansi African Trickster Tales Folk Tales from Africa Compé Anansi Kweku Anansi Brer Anancy
Black History Month
African American History Month
Miami Dade Public Library System.